In this Post:
Why You Need to Check for Credit Report Errors
Credit Report Errors Are More Prevalent Than You Think
How Do I Correct Errors in My Credit Report?
The Importance of Having a Correct Credit Report
Your credit report contains a lot of information that directly affects your credit score. Your credit score can be the gateway to opportunity. It can help you get approved for loans, credit, and more. While you might think that credit reports are accurate, you could actually have many errors on your credit reports.
Here we'll break down accuracy on reports and how to make corrections if you spot any errors.
Why You Need to Check for Credit Report Errors
You dont want errors on your credit report. You want your credit report to have accurate information, so it's reflected positively in your credit score. On top of that, it's your personal information and credit history, so you want everything to be correct.
Unfortunately, when it comes to accuracy on reports there could be errors. First of all, there are three credit bureaus:
TransUnion
Equifax
Experian
You have a credit report with each credit bureau.
That already increases the margin of error. Additionally, not all lenders report to each credit bureau either. So when checking your free credit report on AnnualCreditReport.com, you'll want to go through all three of your reports with a fine-tooth comb to make sure everything is correct.
Credit Report Errors Are More Prevalent Than You Think
As of 2013, the Federal Trade Commission (FTC) released a study that outlined just how prevalent errors on credit reports are.
The study found that 20% of consumers had errors on their report. Not only that but the survey found that 25 percent of consumers had an error that could potentially affect their credit score.
Andrew Rombach wrote in an article on LendEDU: "In July 2011, the CFPB [Consumer Financial Protection Bureau] began accepting complaints from consumers against financial institutions. Today, the CFPB has collected and displayed over 679,000 complaints made against 3,000 different companies."
Rombach later added that the top complaint among consumers was about credit reporting.
The latest data from 2016, according to Rombach, stated that there were 186,494 complaints with the CFPB. Out of that amount, 43,206 complaints were about credit reporting. That means 23% of complaints were about credit reporting, which is a significant amount for any industry.
According to a follow-up study by the FTC, almost 70 percent of consumers in the previous study who had errors on their credit report still believe there are inaccuracies on their report.
Major changes in the credit report industry were recently enacted in late 2017 to help combat some of these errors. Now the credit bureaus will remove information regarding tax liens, delinquencies, and civil judgements if the information is incomplete. Additionally, medical debt will be excluded from credit reports until those debts are 180 days past due.
How Do I Correct Errors in My Credit Report?
If you find errors on your credit report, it can be frustrating, to say the least. How can you correct errors on your credit report?
First of all, with the Fair Credit Reporting Act, you are entitled to view all three of your credit reports each year using AnnualCreditReport.com.
You will want to check all three reports for errors. If you do find errors, contact each of the credit bureaus individually to fix the issue. The credit bureaus typically have a dispute center that you can go to directly. As you can see in the image below, Experian has a Dispute Center tab on their website.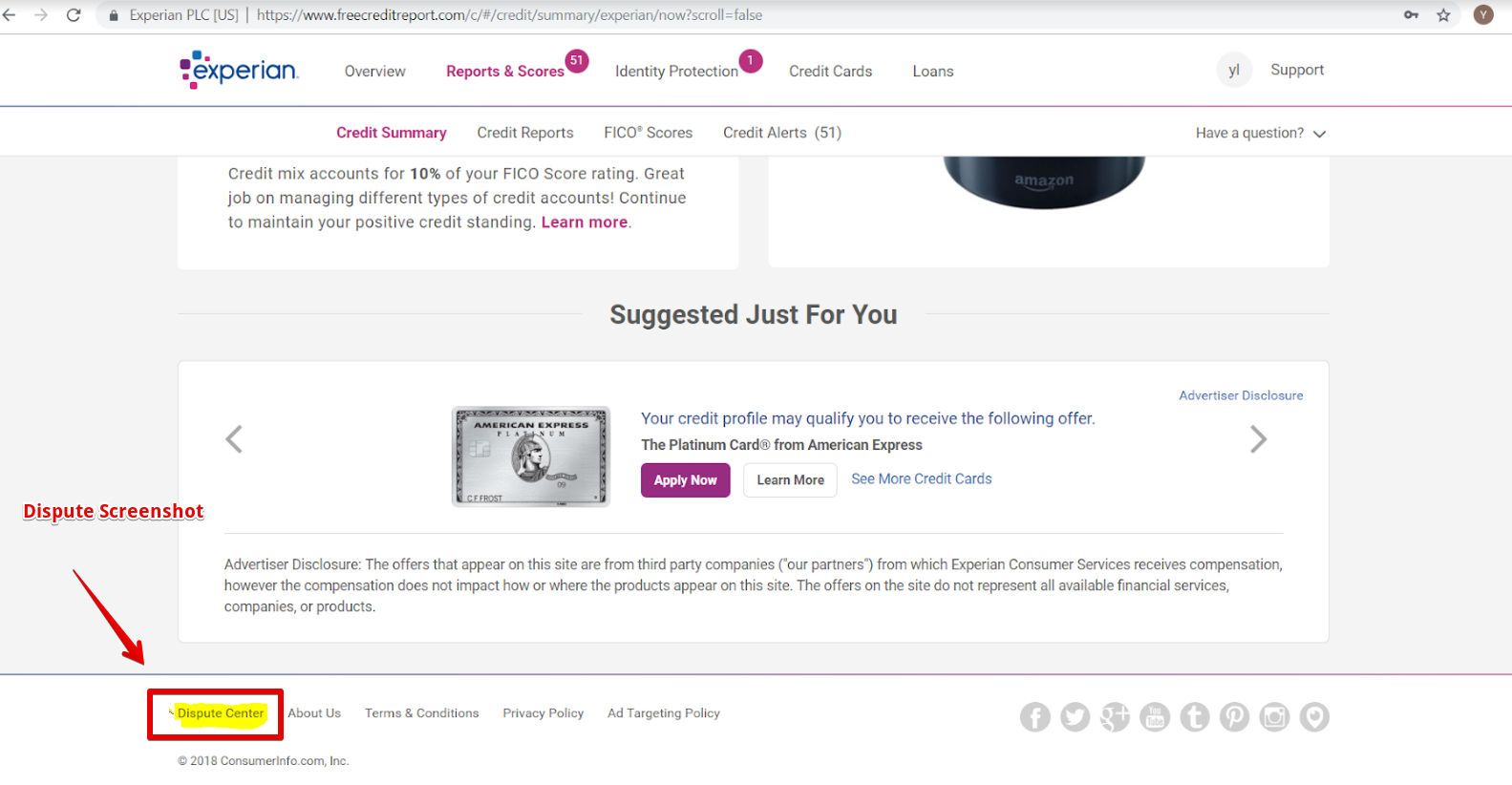 When disputing errors you can use this sample letter from the FTC to submit information to the credit bureaus. You can also check out their complete guide on disputing errors.
If you find an error on your credit report, get in touch with that credit bureau ASAP to fix the issue. You can contact each credit bureau and file a dispute.
| Experian | TransUnion | Equifax |
| --- | --- | --- |
| Experian P.O Box 9701 Allen, TX 75013 | TransUnion LLC Consumer Dispute Center P.O Box 2000 Chester, PA 19016 | Equifax P.O. Box 740256 Atlanta, GA 30374-0256 |
| 1-877-284-7942 | 800-916-8800 | 1-866-349-5191 |
| experian.com | transunion.com | equifax.com |
The credit bureaus must investigate the errors within 30 days. When everything is resolved, the credit bureau will contact you in writing and give you an updated credit report.
In the image below, you can see the results of a successful dispute.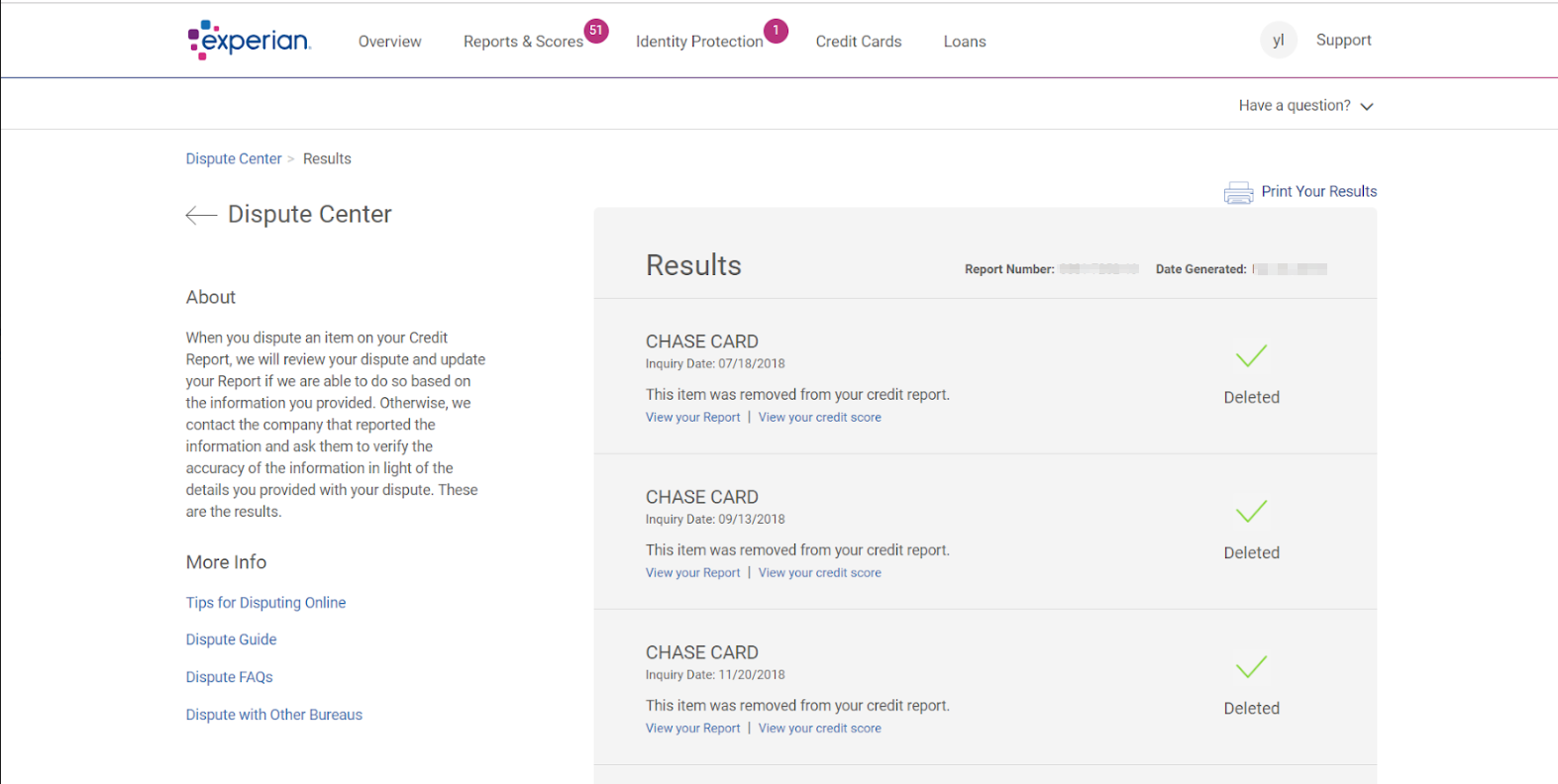 Our data has shown that when you remove errors on your credit report it can help boost your credit fairly quickly.
In order to expedite the process, calling the credit bureaus after submitting the letter and talking to supervisors can help move things along. When it comes to errors, banks, mortgages as well as larger institutions tend to have less errors on the report and are tougher to fight. Collection agencies and local bills, on the other hand, typically have more errors but are easier to fight by demanding proof and showing the errors that were made.
The Importance of Having a Correct Credit Report
The key is to take action, so you can resolve any issues and dispute errors. Your credit is on the line. If you have an error that is affecting your credit score, it could be costing you money by paying higher interest rates or not being approved for credit at all.
When managing credit, do your part and check AnnualCreditReport.com now. You'll be happy you did.