In this Post:
All About Store Cards
Building Credit with Store Cards
Advantages and Disadvantages
Which Store Card Is Right for You?
Takeaways to Remember
A store credit card can be a great tool in your arsenal to help you establish credit. If you have low to no credit, you may be wondering how you can establish credit in the first place. Many credit card companies won't approve you without any credit or if you have poor credit.
So, what can you do?
Luckily, there's a way to build credit with a certain tool that has pretty good odds of approval. What is this solution that can help you effortlessly build credit? Store cards.
Yes, it's true.
You can apply for a store credit card at your favorite retailer, get rewards and discounts, all the while establishing your credit.
What Is a Store Card?
You might recall going shopping and being asked, "Would you like 10% off today's purchase by opening a store credit card?"
It's a way for a store to increase brand loyalty and offer discounts to dedicated customers. Store cards that are co-branded (meaning a card that is issued jointly by a financial institution and a retailer) can be used as regular credit cards. However, some store cards can only be used at that specific retailer.
Typically, you can apply for a store card in person at a store location or online.
Can Store Cards Help Me Build Credit?
Yes.
A store card is a great way to start your credit route. Most store cards require lower scores, or no history, and typically have easy approval odds. Seemingly because banks promise retailers a certain approval rate which then requires the banks to approve customers they'd normally consider risky.

This is like WOW…a customer got an approval for a Walmart store card with a 585 credit score!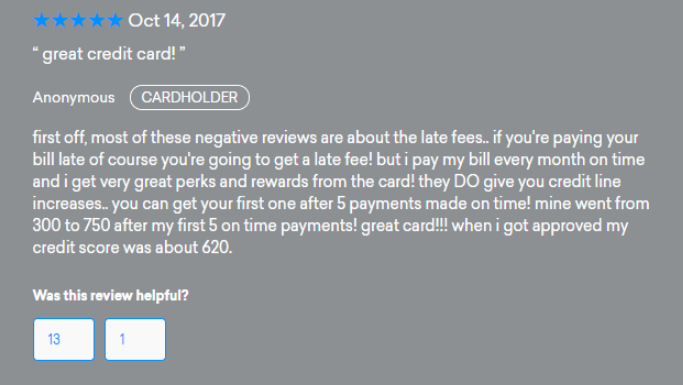 And here again…620 credit score and approved for a Kohl's Card
As with credit in general, the key to using a store credit card effectively is to pay the balance in full each month and keep your credit utilization low. These two factors are the most important activities when building your credit.
The Pros and Cons of Store Cards
It's not all glory.
Truth be told, it can be better to go with a traditional credit card than a store card for a few reasons. Using a traditional credit card, you may have:
lower interest rates
higher credit limits
and can use your card anywhere you shop.
However, if you aren't approved for a traditional credit card, then a store card is a great entryway on your journey to build credit.
There are some things to be mindful of. Though stores may accept consumers with lower credit scores, store credit cards typically have:
higher interest rates
lower credit limits
However, they have no annual fee like most other sub-prime cards. While you could end up paying the price in the form of higher interest rates, that only really matters if you carry a balance. So, if you pay off your store card in full each month this may not be an issue.
Also, store cards can have low credit limits. They may approve you for a $300 credit limit. To boost your credit score, you need to keep your balances at 30% or less of your credit limit. That means having $90 or less on your card at any given time. If your shopping consistently, that may be tough to do.
But if you keep your balances low and pay your cards in full each month, a store card can help you establish credit.

People constantly ask us, "What is the best way to build credit from zero without a secured credit card?" Store cards are your best bet. Store credit cards are easy to get approved for and after six months of on-time payments and low balances should help you establish a credit score.

A secured credit card is another great option, but secured credit cards require a deposit upfront. So, if you don't have the cash on hand to make that happen, you should be able to apply for some easier prime cards.
Choosing the Best Store Card for You
Though store credit cards are easy to get approved, you still want to do your research and figure out which store card is right for you. Which place do you shop at the most? Which store offers the most lucrative incentives?
Here's our list of the BEST store credit cards to build credit:
Amazon.com store card
Target store card
Costco store card
Macy's store card
Walmart store card
Best Buy store card
On the question "Can store cards hurt your credit?", we always advise to be careful not to apply for too many store cards; perhaps just start with one. The store cards themselves don't hurt your credit but applying for any credit card can result in a hard pull on your credit, which may result in a slight drop in your score.
However, there is the shopping cart trick that might prevent hard pulls when applying for a store card by certain card issuers.
Only this store has a hyperlink. Was that intentional? If not, add the hyperlinks to the other stores.
Of course, if your credit is good it's usually not smart to apply for more store cards unless you shop heavily at that store. Otherwise, the rewards don't outweigh the credit pull and low limit of the card which can negatively affect you.
We can tell you this much:

Even though store cards are easy to get approved for typically, some higher end cards may still decline your application if you don't have any other credit cards. Example below: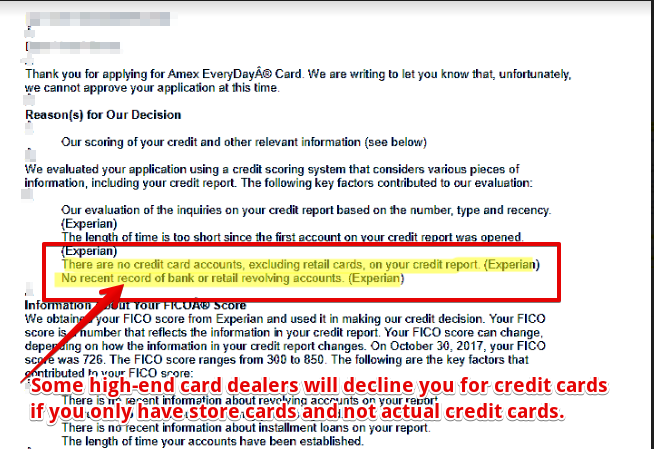 Store Cards Key Takeaways
If you're looking to establish credit or rebuild your credit, then a store card could be a good option for you. Like with any credit card, it's important to be mindful of your spending to avoid debt. Not only that but keep your balances low and make payments on time to get the most out of a store credit card. Once you've gotten your credit into shape, you can move onto better cards with more rewards.
While a store card is a good entryway to start improving your credit. Check out these articles on other ways to build credit.