In this Post:
The Lowdown on Secured Cards
No Credit? No Problem!
Recommended Secured Cards
How They Work
Secured Card Benefits
You've got the dreaded letter: Denied ☹
You tried to get a traditional credit card and it was a no go...total bummer.
What else can you do then to build your credit?
Your best bet is a "secured card." It is the easiest way to get an approved credit card when you have poor credit. Secured credit cards are geared toward consumers with no credit or a negative credit history. These cards, when used wisely, can help set you on the path to establishing or rebuilding your credit.
All You Need to Know About Secured Cards
A secured credit card is a specific type of credit card designed for those with "not-so-great" credit. The card is "secured" by a deposit that is then used as your credit limit.
Traditional credit cards are "unsecured," meaning they don't have any collateral to back them up. You apply for a credit card, get approved, use it, and pay off the balance.
A secured card is a bit different as you need to put down a deposit first.
Why?
Because secured cards are typically designed for people with little credit, bad credit or no credit who don't have the creditworthiness yet. By using this card, people show a lender they are responsible and likely to pay back any charges they make. Therefore, a deposit is needed to help lower any risk on the lender's part.
The deposit can serve as a credit limit and will be used to help recover any losses in case the borrower doesn't pay back the balance.
However, there is one card that only requires a partial deposit and can offer a larger credit limit. The Secured Mastercard® from Capital One® has an initial credit line of $200 with security deposits of $49, $99, or $200, depending on your credit.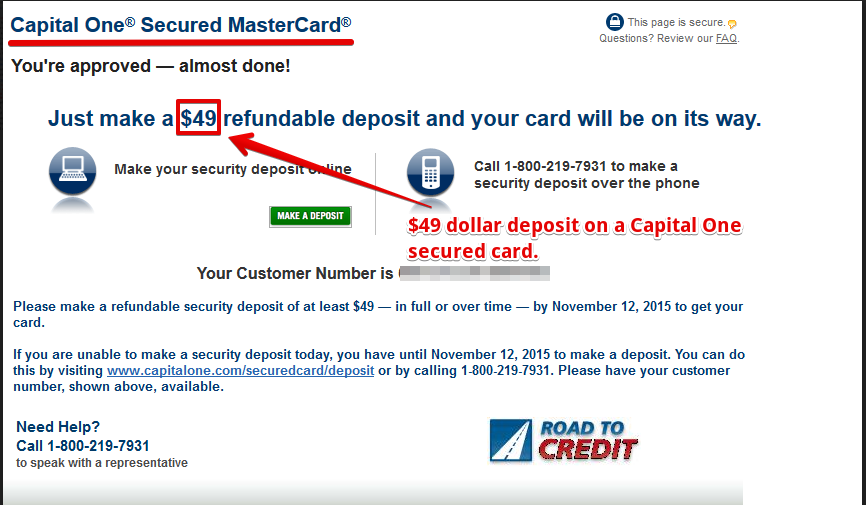 Yes. Secured Cards Are Available Even with Bad or No Credit
If you've been denied for a regular credit card you might be curious and think "Can I get a secured credit card with bad credit?"
The answer is...Yes!
Secured credit cards are available to consumers and are on the market. So, if you feel like you're out of options with bad credit or no credit, secured credit cards are another avenue to consider.
Something important to note is that while it's possible to get a secured credit card with a prime issuer such as Bank of America,
Scored Credit™ data has shown that it may be a bit tougher than going with a subprime issuer like Credit One. On top of that, there are other secured card issuers that don't check your credit like "open sky."
These are all things to consider when choosing which type of secured credit card to apply for.
Discover the Best Secured Cards for Rebuilding Credit
You want to build your credit so that eventually you can get approved for a regular, unsecured credit card. You want to find a reputable secured card to rebuild credit or establish credit but…
Where do I start???
Secured credit cards for bad credit or no credit:
| | | | |
| --- | --- | --- | --- |
| Issuer | Annual Fee | Minimum Deposit | Requires Deposit Equal to Credit Limit? |
| Discover | No | $200–$250 | Yes |
| Capital One | No | $49 | No |
| Citi | No | $200 | Yes |
| Bank of America | $39 | $300 | Yes |
The Capital One secured card is a good option as you may be able to pay a partial deposit. And on top of that, there is no annual fee. If you need a larger credit line, and have the deposit saved up, opting for Discover can be a good fit too.
The cards listed above may convert your secured credit card to an unsecured credit card after a certain period of time (typically between 6–18 months) but it is at the discretion of the card issuer.
The good news is that all of these secured cards report to the credit bureaus. Though the cards may still be reported as "secured" on your credit report if you:
make your payments on time
keep your balances low
using a secured card can, and often will, benefit your credit score.

How Exactly Do Secured Cards Work?
A secured credit card is good for building good credit, but you have to be strategic with it.
Applying for the right card.
Having the deposit ready.
Using the card responsibly over time.
You will need to have six months of on-time payments in order to be eligible for a traditional credit card.
Aside from making on-time payments, you want to keep your credit utilization low.
Your credit utilization is how much you charge in relation to your limit.
Unfortunately, secured cards can have low limits which means you'll really need to keep an eye on your spending.
Scored Credit™ always recommends keeping this number at 30% or less.
If your credit limit is $300, you wouldn't want to charge more than $90 on the card.
After about six months you may be able to "graduate" from a secured card to an unsecured card.
Scored Credit™ data, from interviewing 500 people, shows that 30% of consumers who started with a secured credit card went on to get an unsecured credit card in less than a year's time.
While that can be a positive, we also found that eighteen percent of new customers with no credit at all were still declined for a secured credit card from prime issuers.
This can be disappointing.
But it doesn't mean you can't try another option down the road.
We always get this question: "Can a secured credit card hurt my credit?" Only if you apply for too many cards at once, so consider spreading out your applications.
Why You Should Consider Secured Cards
A secured card can help you establish or rebuild credit if you play the game right.
Once you've completed that process, you can build your credit score and get approved for a regular credit card with better terms.
While a secured credit card is a good gateway to start improving your credit. Check out these articles on ways to build credit.