In this Post:
Student Cards: An Overview
Student Cards Help Build Credit
How to Apply for a Student Card
Top Student Cards to Consider
Other Options to Build Credit
You know building credit is an important part of adulting. But, how can you build credit when you're just starting out on your financial journey?
It's tough to get approved for a credit card when you have little to no credit history to show. The good news is there is a hack to help you—apply for a student credit card.
So, whether you're in college and want to establish a credit history or a parent who wants to help your child, this is a route you can take. Read on to learn more about student credit cards and how they can help establish and build credit.
The Ins and Outs (and Perks) of Student Cards
Student credit cards, as their name suggests, are specifically designed for people in school with little or no credit. In general, student credit cards are available to college students who are 18 years of age or older.
The perks of these cards are that you can establish and build credit, have another financing option, and you may even be eligible for rewards like cash back.
While student credit cards may seem like an obvious option if you're over 18 and in college, unfortunately, they're not available to just anyone. Being 18 and in college isn't enough. In essence, a credit card issuer is giving you an option for short-term cash each month, but they want to know that you can be a responsible adult and borrower and pay it back on time.
When you're just getting started you may not have that much proof to show a lender that you're "creditworthy"—worthy of credit and can handle the payments. There's also some legislation that can make it tough, too.
The Credit Card Act of 2009 states that if you're not 21, you must have a written application for a credit card and have a co-signer or you must show that you're financially capable of making payments.
A co-signer is someone like a parent or grandparent who is legally responsible for the credit card payments if the primary borrower does not make payments. So, if your parents aren't willing to cosign, you would need a job and have sufficient information to illustrate that you can pay back your credit card debt.
Why Student Cards Are the Best Way to Build Credit
Do student credit cards help college students build up their credit and prepare for their future? That is the question.
They definitely do.
As soon as you are approved for credit, that action builds credit. Therefore, if a student is approved for a student credit card, it will build his credit, if used wisely.
Student credit cards are a good option to consider as they have a fairly high approval rate even with low limits. These cards are specifically for students and can come with a ton of perks, and best of all, they can help build credit.
You might wonder why building credit even matters. If you're in college, credit can be a foreign concept and not seem that important. But your credit history and your credit score are used in a number of very important decisions.
● Want to rent an apartment after graduation? Your credit will be checked.
● Ready to get a new set of wheels? Your credit will be checked.
● Dream of being a homeowner one day? Your credit will be checked to get a mortgage.
Not only that but having a good credit history can get you the best interest rates which will save you money in the long run.
So, if you're in school and have a co-signer or can show you have some funds available, a student credit card can be a good first step on your credit journey.
Surefire Ways to Get a Student Credit Card
If you're wondering how to get a student credit card, there are a few ways.
If you're 18, you can apply for a student credit card via the mail. In some cases, you may even be pre-selected to receive a student credit card offer.
In order to apply for a student credit card over the phone, you need to be at least 21.
You may also apply for a student credit card online.
Many creditors will require proof that you are in fact a student. In the example below, there is a credit application asking which school the student attends.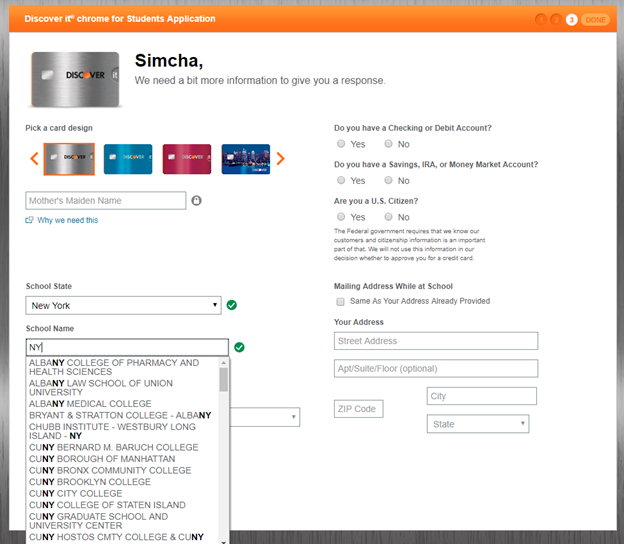 In order to boost your chances of getting approved,

if you are over 21 you may want to include your parents' income on your application. Seeing as income is factored into the application, this could help.
If you are younger than 21, you may want to show your income by sharing a bank account with a parent and illustrating that bills are paid from that account.
In both cases, you can boost your income, improving your odds at getting a "yes" for a student credit card.
The Most Recommended Student Cards in the Market
Getting a student credit card can be a smart move and help you get your financial ducks in a row and build your credit. Obviously, you want to find an option that makes sense for your financial situation and lifestyle.
Here are the three best student credit cards, in our opinion.
1. Discover it® Student Cash Back
There's one thing that's pretty true for most college students: You're not exactly rolling in the dough—at least not yet. That's why the Discover it® Student Cash Back student credit card is so attractive.
You can score up to 5% cash back each quarter in certain categories like restaurants, gas stations, and more.
Aside from that, you get 1% cash back on everything else.
The best part? You can earn these rewards without an annual fee.
If you get good grades, you can get a $20 statement credit each year that your GPA is 3.0 and above. On top of that, Discover matches your cash back automatically at the end of the year. Ah-may-zing! That's cash on cash on cash with no annual fee!
What you should consider though is that you only get five percent cash back in certain categories each quarter and you must activate it first.
2. Journey® Student Credit Card from Capital One®
Another great student credit card is the Journey® Student Credit Card from Capital One®. This card:
scores you 1% for your cash back purchases but rewards you even more if you pay on time with 1.25% cash back.
There's no annual fee, no foreign transaction fees, and there's fraud coverage included.
After five months of on-time payments, you may be eligible for a higher credit limit.
This card has a higher variable APR of 22.98%–28.98% as it's geared toward consumers with average credit.
3. Citi ThankYou® Preferred Card for College Students
If you like to go dine out and enjoy entertainment, the Citi ThankYou® Preferred Card for College Students may be for you.
You get 2x the points on dining out and entertainment and 1x for everything else.
Cardholders who spend $500 within the first three months are also eligible for 2,500 bonus points. These points can be redeemed for gift cards and a variety of other rewards.
On top of that, there's no annual fee and a 0% APR for the first seven months.
You should be aware that after the intro period, the APR jumps to 16.24%-26.24%, depending on your credit situation.
It's important to note that while you may get approved for a student credit card, your credit limit may be low. One of the best ways to keep your credit in good shape is by keeping your balances low. So, if you only have a $300 limit, you'll want to keep your balance below $100.


What If My Student Credit Card Application Is Rejected?
If you want to build credit at 18 or just want to build credit as a college student, a student credit card is a good option.
Unfortunately, our data has shown that many consumers with no credit history at all still get denied, even though they are students.
Below you can see a consumer rejection letter because of the lack of credit history.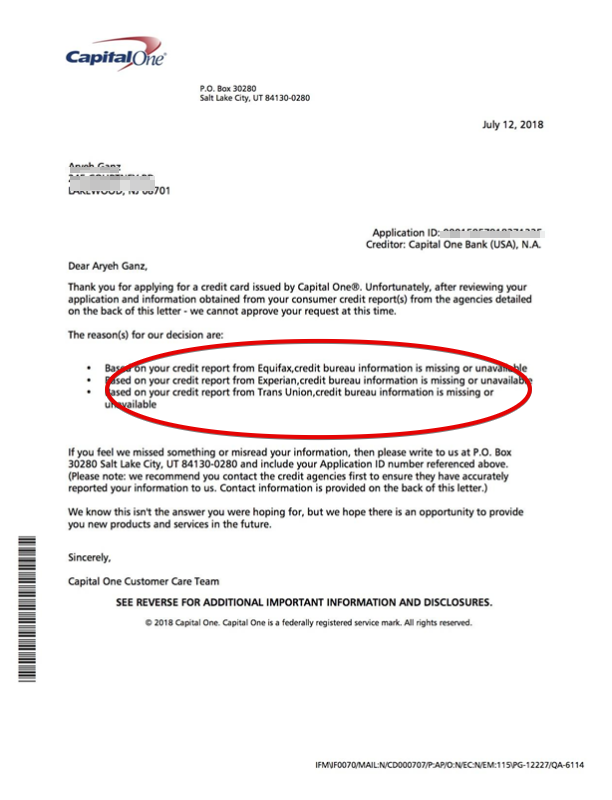 So, if you're denied a student credit card, how can you build credit? How can college students build credit if the one card designed for them is a no-go?
Well, you're not out of luck so don't fret.
If your parents have good credit, see if they can add you as an authorized user to their credit card. As an authorized user, you can have your own card and reap the benefits of their positive credit history.
Another option is to get a secured credit card. A secured credit card requires a cash deposit that works as your credit limit. Because it is backed by collateral, there's a pretty high approval rate for these cards and they can go a long way to help you establish credit.
If you have student loans, making payments on time can help.
Lastly, you can apply for a store credit card at Target or your favorite retailer. Typically, store credit cards grant approval easily. But, they also can have crazy high APRs and low credit limits, so watch out for those limitations.
In other words, if you get denied for a student credit card, there are other ways to build credit as a college student. The key is to find the tool that works best for you to get started on your credit journey.